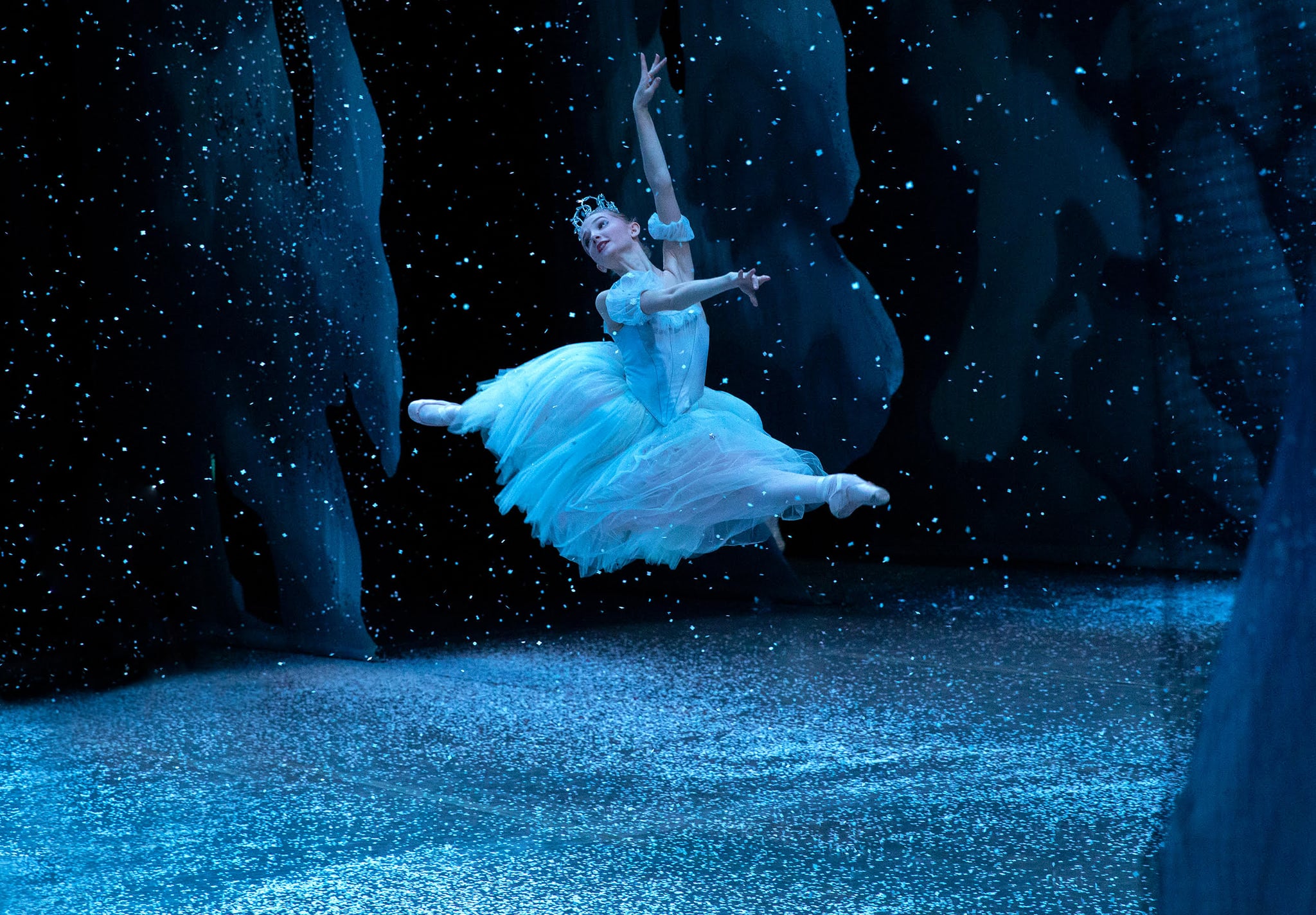 Photo: Zoe Magnussen performing in the New York City Ballet's 2019 production of George Balanchine's The Nutcracker® at Lincoln Center. Choreography by George Balanchine© The George Balanchine Trust.
On Pointe, available via Disney+ starting Dec. 18, throws us (or twirls us, rather) into the world of dance at the School of American Ballet — SAB for short — as the younger students prepare for the 2019 Nutcracker and the older dancers work to solidify their future in the industry. The third episode shows now-18-year-old Zoe Bliss Magnussen learning of her acceptance into the New York City Ballet's apprenticeship program. It's a year-long program that sets high-level students up for their professional careers post-graduation, but things took a turn for Magnussen at the onset of the COVID-19 pandemic.
Magnussen, from Woodside, CA, told POPSUGAR of her apprenticeship, "It was just one of those things where you work so hard for it because that's what everyone wants and what everyone hopes that they might receive some day." Magnussen's parents moved to the East Coast along with her once she joined SAB, and while she started dance at age 3, she got serious about ballet in particular by the time she was 8 after going to the San Francisco Ballet's Nutcracker. "I think that was one of my first experiences seeing professional ballet, and that just really resonated with me," she said.
Magnussen's schedule was full when she was on-boarded as an apprentice in the fall of 2019: company classes six days a week, rehearsals, and then performances. She was able to dance in a number of shows like the Nutcracker and Swan Lake, but once the COVID-19 lockdowns commenced, things were put on hold. Her apprenticeship has been extended — you can still find her listed as an apprentice on the New York City Ballet roster — because she's required to stay on with the ballet company until she finds out if she's promoted to a corps de ballet contract (corps de ballet is the lowest rank of dancers signed with the company).
"I need a specific amount of time before they can tell me yes or no," Magnussen explained. "Hopefully New York City Ballet can open up next fall season. Then, after a certain amount of performing is when they'll let us know," she said, referring to the three other apprentices. She anticipates finding out sometime in the fall of 2021.
SAB and the New York City Ballet have both been hosting Zoom classes, Magnussen said, and though she was recovering from a minor injury at the time of our interview, she'll have the option to take those once she's healed. However, she does miss performing. "You can't see it from the stage, but all the dancers, we're cheering each other on from the side of the wings, and everyone's just clapping, smiling, hugging each other," she recalled. "It's really such an amazing experience, and I'm really missing it this year."
A group of mentor dancers from the company is supporting Magnussen during her time as an apprentice, which she said is helpful for her and also simply incredible. "When you get into the company, you take company class, and all of a sudden you're standing behind a principal dancer that, for four years, I would watch in the audience. You'd be like, 'Oh my gosh, she's so beautiful.' Now all of a sudden, I'm standing doing barre work behind her, so it's this surreal moment of seeing everyone you look up to."
It would be a "dream come true" to eventually mature into a principal dancer with the New York City Ballet, Magnussen said, adding that one such dancer she looks up to is Lauren Lovette: "I just love her openness, and her vulnerability I just think is so beautiful. She's really a great inspiration to everyone." The possibility of getting into that top ranking is hard to put into words, Magnussen admitted, "but for now I'm just looking toward the future and excited to just be dancing again and hopefully be a part of the company."
You can financially assist the New York City Ballet by streaming the 2019 performance of George Balanchine's The Nutcracker on Marque TV through Jan. 3, and you can also follow the Dancers of New York City Ballet Instagram account to learn more about supporting these dancers directly during the pandemic.
Ballet, Magnussen described, is an art form. "It's a way of expressing yourself. It's a way of being one with the music and really showing what the music looks like," she said, which is something that the late George Balanchine, founder of SAB, stressed the importance of — seeing the music. Whether you've watched ballet before or are new to the performances, she says that anyone is able to feel what the dancers on stage are portraying.
"It's like the fourth wall when you're on stage. There's the theater, there's the stage and the dancers, then there's a little invisible curtain, and then there's the audience," Magnussen explained. "It's very separate, but you're feeling the same emotions, and you're going through the same story together."
Image Source: Photo by Erin Baiano / Courtesy of NYCB