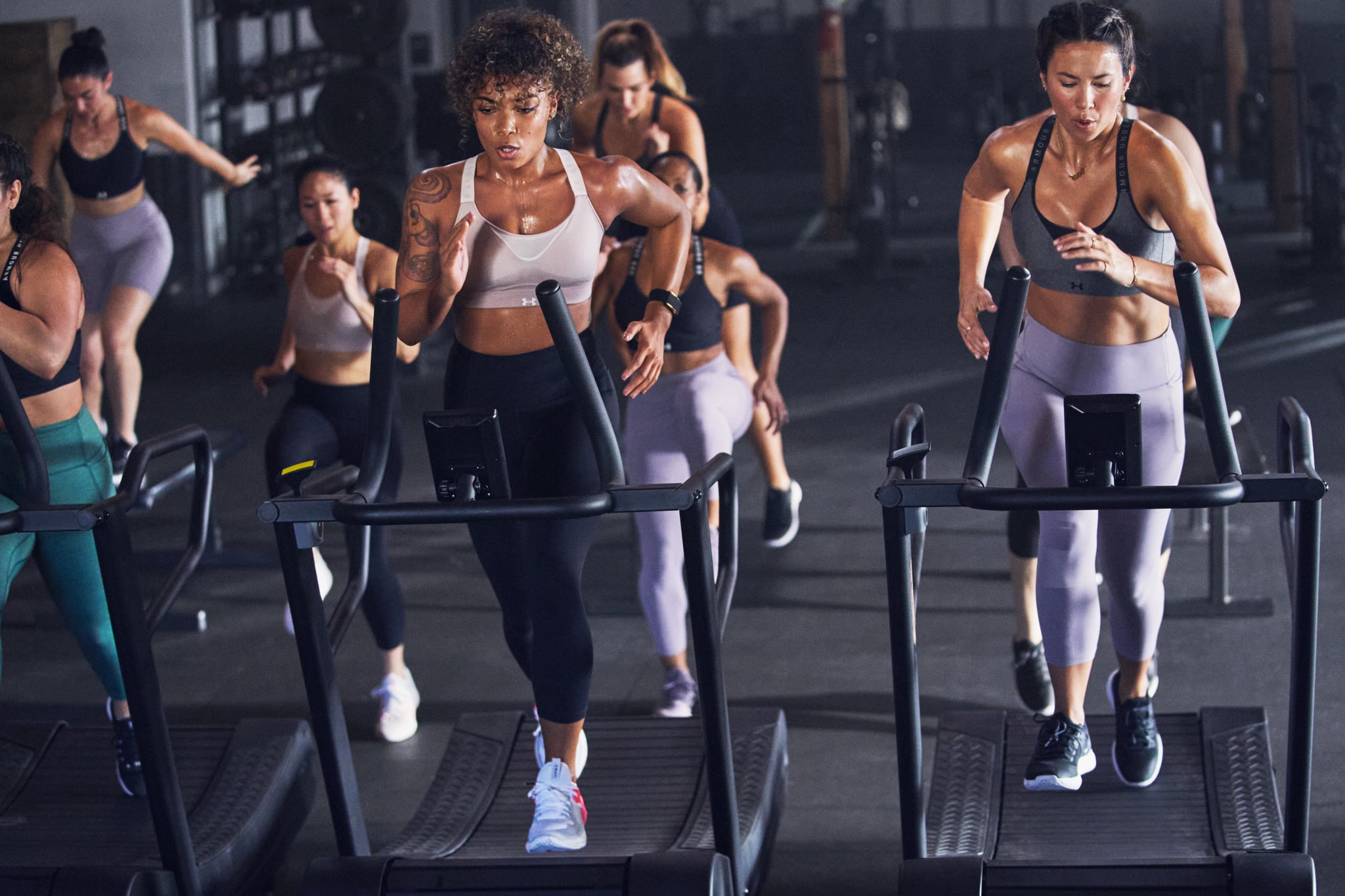 Treadmills can be polarizing. You either love running on one or you feel like you're on an endless hamster wheel. I happen to be in the second camp.
As a marathon runner, I gravitate toward long stretches of city streets or my favorite river park. But the second I lace up my UA HOVR™ Phantom 2 Running Shoes ($150) and get on a treadmill, I'm like a totally different runner. But as I've learned from Mile High Run Club coach Corinne Fitzgerald, NSCA-CPT, RRCA Level 1, when running on the treadmill, shifting perspective may be key when things feel different.
In fact, she said someone new to treadmill training should be wary to compare their outdoor times to indoor paces. "Some run better, some run worse on treadmills, so just start where you are and then begin to create goals after a few runs," she said.
I admit that I've been guilty of comparing my outdoor running paces and experiences to treadmill running. But as it turns out, I may be giving up on this valuable running tool too soon. As Fitzgerald explained, treadmills can actually help runners practice and improve form. They also allow you to adjust incline and speed so you can challenge yourself in different ways than you can outside. What's more, Fitzgerald noted the surface of most treadmills are gentler than outdoor pavement or concrete, so they're easier on the joints.
If you're ready to give the treadmill another go, take a peek at these tips Fitzgerald likes to share with new runners and treadmill-hesitant runners — like me.
Set a Goal
Fitzgerald explained that usually this goal is a race. But because of canceled in-person events, she encourages runners to get creative with a new goal that's perhaps not race-related.
"Maybe once a week, you try to run your fastest mile on the treadmill, and all your training around the mile trial supports that goal," she said. "Or perhaps you want to try a new speed out for 30 seconds. You can start with running that speed for 10 seconds and work your way up to 30 seconds or a minute."
If you've never run for longer than 20 minutes, that can be a new goal. Bottom line: whatever your goal is, set it and use the treadmill to motivate you.
Turn Your Entertainment Into a Workout
Fitzgerald also added that throwing on a podcast, an excellent playlist, a show, or a movie can help the time fly by for treadmill haters. But to keep things interesting, try making your entertainment a part of your workout. "To keep your legs sharp, you can add surges in your run," Fitzgerald said. "Every time your favorite character says a phrase or a certain word, you can pick up the speed for 20-30 seconds." If you're listening to music, every time the beat drops, you can add speed, she added.
Experiment With Different Modes
Test out the different modes on the treadmill to keep your workouts interesting, Fitzgerald suggested. "Dynamic mode (where you power the belt instead of the belt moving on its own) is one of my favorite modes when I need a change on the tread, and it works a different system," she explained. Pair a run on dynamic mode with 10- x 20-second pushes with a 40-second recovery for serious energy.
"Another great workout for the treadmill is the incline function," she said. "Start with a comfortable pace, and in one-minute intervals, take the incline up until you reach 10 percent. Take a one-minute recovery after each interval, and try to maintain the same speed, even as the incline gets higher."
Get Comfortable With Discomfort
"Most people have the ability to run longer on the treadmill; however, mentally, they give up before they even start," Fitzgerald said. "There's not a lot of external stimuli when you're running indoors to keep you on your toes, and many people have a hard time in their own heads for too long. Running indoors can force you to be comfortable with yourself in your own head for an extended period of time, somewhat like meditation."
Fitzgerald said a good challenge is to allow yourself to be comfortable without the external distractions, instead of constantly trying to distract yourself from what you're doing.
Go On and Treat Yourself
There's nothing wrong with a little positive reinforcement. "Maybe it's your favorite post-workout smoothie or a really nice, long stretch," Fitzgerald explained. Whatever reward means to you, go on and indulge. Ultimately, though, running on the treadmill shouldn't be a miserable experience that needs a reward.
In fact, those of us who have access to one shouldn't take it for granted. "It is very easy to take simple things for granted, and remembering to be grateful for the things at our disposal can make the actual workout feel much easier to handle," she said.